ATM's can offer your business an additional source of income, creating profit to supplement credit card processing fees as well as being able to offer multiple options for payment. By investing and installing liquid capital, you set your service fee and profit on each cash withdrawal.
ATM's give you the ability to offer your customers access to their bank account without ever leaving your place of business. This setup is perfect for companies that provide state emissions testing and require cash only, convenience stores or bars with significant foot traffic and supermarkets that offer lottery services.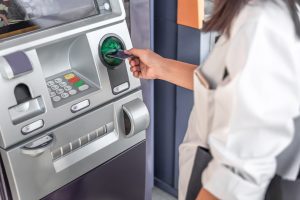 Owning an ATM allows you to determine the fees, giving you the opportunity to make a profit on each withdrawal. Our ATM's are state of the art, EMV & PCI-DSS compliant and are sold a-la-cart.
The benefits of an ATM:
Customers spend 35-40% of the monies withdrawn, in store (win-win!)

The average cash withdrawal is $60

12 Month Warranty with extensions available

Increases foot traffic
For more information, or to get pricing, please Request A Quote or book a consultation on Facebook